Born I Music – "Supreme Mathematics" single (prod. MMG) coming soon. King's Landing Vol 1 CD drops soon.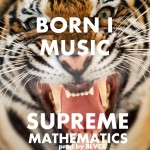 [Hip-Hop Re-BORN]
He is the sun.
He is the storm.
They called him infinite when he was BORN.
He is @BornIMusic and he is TAKING BACK HIP-HOP. Wake up. Stay woke.
#BlackSinatra #Branding #BestOfTheDay #BornIMusic #BornInfinite #Breaking #ComingSoon #DCAsFuck #HipHop #KingsLandingVol1 #Lyrics #Music #PicOfTheDay #PhotoOfTheDay #QOTD #QuoteOfTheDay #Rap #Supreme #SupremeMathematics #Words
The media blast for Born I Music's first official single and video "Supreme Mathematics" for the upcoming CD "King's Landing Vol 1" launches today. The Hip Hop community, at its highest levels, are now officially informed. Executive / Principal producer A.J. Halpern of Monomental Music Group could not be more proud at this commercial and artistic achievement!